Types of Cycle Parking: Recommended Cycle Parking
Cycle parking must be useable by all, easily maintained and allow for both wheels of the cycle to be locked to the stand. Sheffield stands and two-tier stands are preferred options as they are the most practical. Vertical stands and wheel racks are generally not acceptable unless there is no other alternative.
Space should be provided for non-standard or all-ability cycles.
These include:
Cargo bikes

Hand-cranked cycles

Trailers

Buggies

Tandems

Adult Tricycles
Recommended Types of Cycle Parking:
Sheffield Cycle Stands

Two Tier Cycle Parking
---
When provided in areas open to the public we recommend the first and last stands be fitted with a tapping bar/rail and reflective visibility bands for the benefit of the visually impaired. Sheffield stands should always be fixed at right angles to a slope so parked cycles cannot role downhill.
Benefits of Sheffield Stands:
Understood by users
Good support
Easy to use
Two cycles can be locked to the stand
Accesible from both ends
Cost effective
Low maintenance
Can lock both wheels
The size for a Sheffield stand is 700-800mm long by 750mm above ground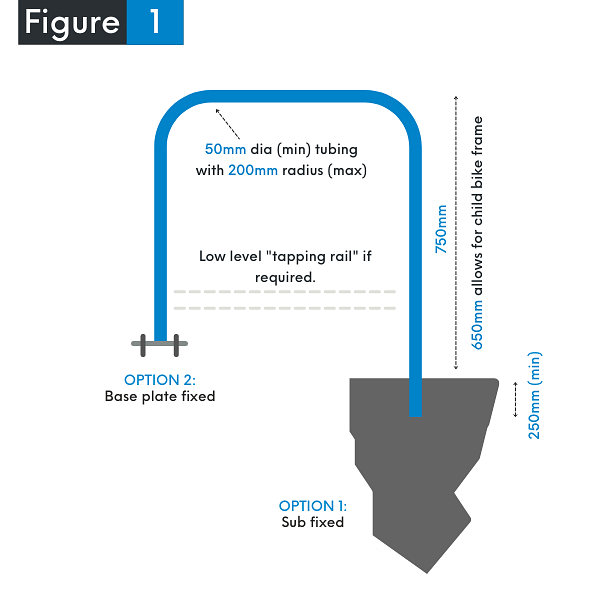 ---
The Planning Process : From the initial plans, to installation
The use of two-tier stands is suitable for most developments, especially if Sheffield stands can't be provided.
Two tier stands are generally not suitable for heavy bikes, or those with child seat, baskets or panniers.
Broxap recommend the either the Hi-Rise Two Tier System or Easi-Riser. The Hi-Rise employs an easy to use 'pull down-push up' top loading mechanism and then in the lower stand we use the traditional Sheffield stand.
Broxap use the Sheffield stand in the lower section due to the fact it is easily accessible and still gives the option of dual locking of the cycles to the stand.
There is also a reduction in litter/dirt obstacles clogging up the lower area. This is often seen with two tier systems that utilise tray loading both top and bottom.
Wider Aisle
A wider aisle is required for two tier parking to allow for loading a cycle onto the higher level (see Figure 1) this might lead to a reduction in density overall.
Acceptable Two Tier Stands Should:
Include a mechanism that assists living (Broxap Hi-rise also has the option of a gas strut lift assist mechanism).
Include side-bars on both the upper tier to allow the frame and at least one wheel to be secured. Broxap Hi-Rise also features an extra 'lift up' locking device to allow extra locking of the cycle to the system.
---